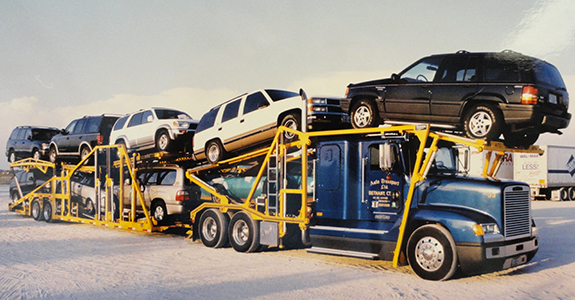 Experienced Car Shipping in Connecticut
If you need your vehicle transported in an expeditious, safe and reliable manner, there's no better choice than KAT Logistics LLC. We have decades of experience in the niche industry of auto transport and we put our expertise to work for our customers with nothing short of exceptional results.
Our schedules are as follows:
Car shipping—fall transportation to Florida
We provide fall transportation to the East Coast of Florida. Departure from the Northeast includes:
Brockton, MA
Windsor Locks, CT
West Haven, CT
Prospect, CT
Deliveries arrive in West Palm Beach, FL. Departure days follow a regular schedule of Sunday for Wednesday delivery and some Tuesday for Friday delivery.
Auto transport—spring delivery to the Northeast
We're pleased to offer auto transportation in the spring to the Northeast region of the U.S. Deliveries are taken from any location, destined for:
Brockton, MA
Windsor Locks, CT
West Haven, CT
Prospect, CT
Departure days for Northeastern delivery include Thursday for Sunday delivery and some Sunday for Wednesday delivery.
Booking forms and paperwork
In order to make car shipping as painless and easy as possible for our customers, KAT Logistics LLC offers a convenient booking procedure. We host booking forms on our website for prospective clients to fill out, ensuring your date and information are solidified in advance of transport.
After confirming your date, please download and fill out the booking form completely and return it with your $100.00 deposit. Deposits must be returned within two weeks of receiving your booking form to hold your space*.
*Please note that due to heavy bookings we can no longer hold reservations indefinitely. If your desired date is not available, we will contact you by phone within one week of receiving your form to discuss alternative options.
Auto transport, done right
Don't wonder about how you're going to get your vehicle from Point A to Point B or invest your time and money into an auto transport company in Connecticut that's not proven or tenured. Instead, trust KAT Logistics LLC and have complete peace of mind that your auto will be transported quickly and effectively, to exactly the place you need it, at the time you need it done.
For more information about our capabilities or to request a quote on auto transport services, please give us a call today at 203-758-5714.